A virtual reality system that teaches users to meditate and equips them with skills to continue their practice beyond the virtual environment
Objective

|
Leverage VR to teach meditation
Project Roles

|
Research & Design Collaborative
Employ a human-centered design process to create and evaluate a multi-lesson, curriculum-based VR meditation system that uses an instructor to teach users meditation methods and encourage personal practice outside of VR.
​
Eempirically evaluate the efficacy of our system with a longitudinal lab-based deployment to determine if our system can improve a user's ability to meditate over time and on their own.
Research Lead (me): Developing all research methods; submitting protocols to IRB; drafting all study materials including interview guides and surveys; recruiting and coordinating participation; collecting data and maintaining database; analyzing data using qualitative and quantitative methods
​
Design Lead (Matt Golino): Developed proof of concept; assisted with collecting and analyzing data; researched and selected hardware and software to build system; designing, coding, and building all elements of virtual environment
Project Outcome

|

As of December 2019
After months of collecting and analyzing data to inform our design, we are now in the process of transforming our findings into a
VR meditation curriculum. While Matt builds the prototype, I'm outlining our script and developing the protocol for our longitudinal evaluation. We plan to conduct expert evaluations and conduct a longitudinal lab-based deployment of the system by May 2020.
Here's a sneak peak of the prototype.
Background

|

Going beyond one-off relaxations to harness benefits of meditation
Can we use an evidence-based approach to build a meditation curriculum in virtual reality and evaluate its ability to teach users to continue their practice beyond the virtual environment?
Over the past several decades meditation has been recognized for its ability to promote mental health, improve cognitive functioning, and induce physiological changes that reverse stress. As a result, meditation has grown in popularity and digital tools have been developed to make it easy to access and learn.
With recent advances in virtual reality (VR), there have been several attempts to leverage the immersive qualities of this technology to provide meditative experiences in a virtual environment. However the majority of these are aimed at relaxing the user over the course of one session. The aim of this project is to fill in some of the gaps in existing virtual meditations by creating a system that:
​
Goes beyond a singular meditation experience with a multi-lesson curriculum

Provides education rather than just relaxation so that beginners can learn meditative techniques

Employs a user-centered design process to ensure the system meets the needs of the user

Undergoes a longitudinal lab-based deployment to evaluate its efficacy
Research Phase I

|

Mapping experiences of learning meditation
Understanding how people learn to meditate and identifying the elements that facilitate and hinder the development of meditative practice
For this phase I developed four separate studies to gather qualitative data describing people's experiences of learning, practicing, and teaching meditation. We included people of all meditation skill levels to map the user journey of learning to meditate, identify how to navigate challenges, and to define best teaching practices.
8 Interviews
with
Experienced Meditators
8 Interviews
with
Meditation Instructors
22 Diary Entries
from
Novice Meditators
43 Surveys
from
College Meditators
Experienced Meditator Interviews
Why: To illustrate everyday people's journeys through learning and practicing meditation and to identify trends that could be considered in the design of our system.
How: 1-hour semi-structured interviews asking how they started, challenges they faced, how they overcame them, and how they approach meditation and incorporate it into their lives.
Meditation Instructor Interviews
Why: To learn how instructors teach beginners to meditate and and how they assist them with the development of their personal practice.
How: 1-hour semi-structured interviews asking about core principles of meditative practice, recommended curriculum and teaching process, and how they work with and encourage beginners.
Novice Meditator Diary Study
Why: To gain a more current and detailed narrative of the process involved in learning meditation and measure the experience of beginning meditation in context and over time.
How: 2-week long electronic diary study: Participants were provided with a list of meditation resources, practiced 5 meditation sessions, and completed 5 diary entries asking about their experience.
College Student Meditation Survey
Why: Because college students are a target population for this study, we wanted to ensure that their perspectives were addressed in the design, but also to compare them to those of the general population.
How: Electronic Qualtrics survey shared with student body asking about meditation preferences when learning and practicing meditation.
Sorting & Analyzing Data

|

Translating research into VR design and curriculum content
What do we do with all of this data? With over 16 hours of interviews and 65 survey and diary entries, I'll admit we were a little overwhelmed.
Our map for the first set of interviews looked like this:
Which had me feeling like this: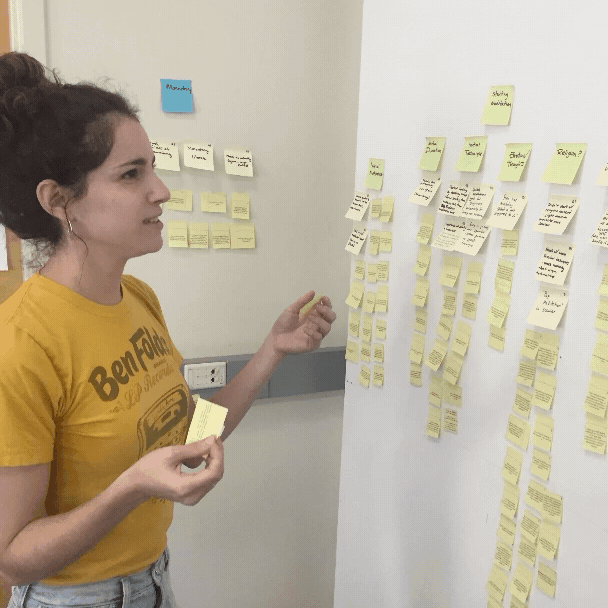 We clearly needed a new strategy. So I had us import the data for remaining studies into Miro boards for more manageable mapping and easy integration of research into our design.
Mapping our notes digitally ended up saving us time and made it much easier to categorize and refine our notes as we pulled out implications for design and content. Perhaps the best outcome from using this tool is that it enabled us to then organize our findings into lesson plans directly from our research. In the end our bounty of data slowly took shape and transformed into the curriculum and virtual components of our system.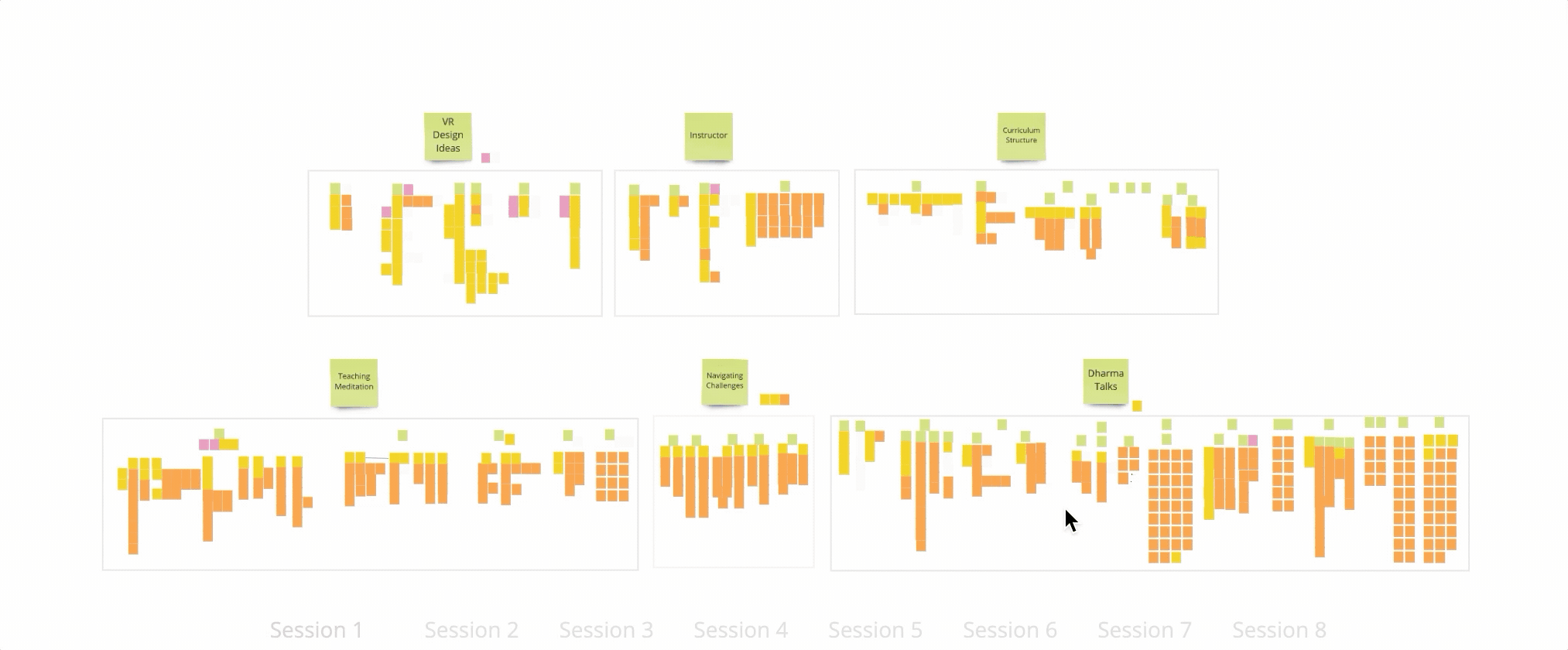 Phase I Findings

| Emphasizing motivators and navigating challenges
Meditation is a practice. Just like learning any new skill, it takes dedicated time and effort supported by proper guidance, structure, and encouragement.
I'm currently working on some additions for this page.
Stay tuned for more details on our findings and our next steps!