A virtual reality system that teaches users to meditate and equips them with skills to continue their practice beyond the virtual environment
Objective

|
Leverage VR to teach meditation
Employ a human-centered design process to create and evaluate a multi-lesson, curriculum-based VR meditation system that uses an instructor to teach users meditation methods and encourage personal practice outside of VR.
​
Empirically evaluate the efficacy of our system with a longitudinal lab-based deployment to determine if our system can improve a user's ability to meditate over time and on their own.
Project Roles

|
Research & Design Collaborative
Research Lead (me): Developing all research methods; submitting protocols to IRB; drafting all study materials including interview guides and surveys; recruiting and coordinating participation; collecting data and maintaining database; analyzing data using qualitative and quantitative methods
​
Design Lead (Matt Golino): Developed proof of concept; assisted with collecting and analyzing data; researched and selected hardware and software to build system; designing, coding, and building all elements of virtual environment
Project Outcome

|

As of March 2020
After months of collecting data and implementing our findings, we're finally ready to evaluate our prototype. We're currently wrapping up heuristic evaluations and are gearing up to conduct a 6-week longitudinal lab-based deployment of the system.
Here's a sneak peak of the prototype.
Background

|

Going beyond one-off relaxations to harness benefits of meditation
Can we use an evidence-based approach to build a meditation curriculum in virtual reality and evaluate its ability to teach users to continue their practice beyond the virtual environment?
Over the past several decades meditation has been recognized for its ability to promote mental health, improve cognitive functioning, and induce physiological changes that reverse stress. As a result, meditation has grown in popularity and digital tools have been developed to make it easy to access and learn.
With recent advances in virtual reality (VR), there have been several attempts to leverage the immersive qualities of this technology to provide meditative experiences in a virtual environment. However the majority of these are aimed at relaxing the user over the course of one session. The aim of this project is to fill in some of the gaps in existing virtual meditations by creating a system that:
​
Goes beyond a singular meditation experience with a multi-lesson curriculum

Provides education rather than just relaxation so that beginners can learn meditative techniques

Employs a user-centered design process to ensure the system meets the needs of the user

Undergoes a longitudinal lab-based deployment to evaluate its efficacy
Phase I

|

Mapping experiences of learning meditation
Understanding how people learn to meditate and identifying the elements that facilitate and hinder the development of meditative practice
For this phase I developed four separate studies to gather qualitative data describing people's experiences of learning, practicing, and teaching meditation. We included people of all meditation skill levels to map the user journey of learning to meditate, identify how to navigate challenges, and to define best teaching practices.
8 Interviews
with
Experienced Meditators
8 Interviews
with
Meditation Instructors
22 Diary Entries
from
Novice Meditators
43 Surveys
from
College Meditators
Experienced Meditator Interviews
Why: To illustrate everyday people's journeys through learning and practicing meditation and to identify trends that could be considered in the design of our system.
How: 1-hour semi-structured interviews asking how they started, challenges they faced, how they overcame them, and how they approach meditation and incorporate it into their lives.
Meditation Instructor Interviews
Why: To learn how instructors teach beginners to meditate and and how they assist them with the development of their personal practice.
How: 1-hour semi-structured interviews asking about core principles of meditative practice, recommended curriculum and teaching process, and how they work with and encourage beginners.
Novice Meditator Diary Study
Why: To gain a more current and detailed narrative of the process involved in learning meditation and measure the experience of beginning meditation in context and over time.
How: 2-week long electronic diary study: Participants were provided with a list of meditation resources, practiced 5 meditation sessions, and completed 5 diary entries asking about their experience.
College Student Meditation Survey
Why: Because college students are a target population for this study, we wanted to ensure that their perspectives were addressed in the design, but also to compare them to those of the general population.
How: Electronic Qualtrics survey shared with student body asking about meditation preferences when learning and practicing meditation.
Sorting & Analyzing Data

|

Translating research into VR design and curriculum content
So what do we do with all of this data?
With over 16 hours of interviews and 65 survey and diary entries,
I'll admit we were a little overwhelmed.
Our map for just the first set of interviews looked like this...
... which had me feeling like this: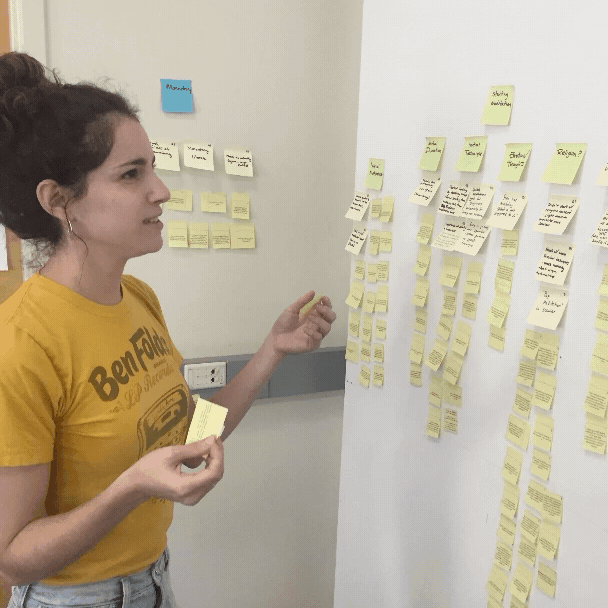 We clearly needed a new strategy. Using Miro boards enabled manageable mapping of all our data.
Mapping our notes digitally ended up saving us time and made it much easier to categorize and refine our notes as we pulled out implications for design and content. We were then able to sort data from all our research studies into overarching stages of the meditation journey.
We mapped all of our research data into distinct stages of the meditation journey
Phase I Findings

| Emphasizing motivators and navigating challenges
Across our four studies we found similarities in people's journeys through discovering, trying, progressing, and succeeding in meditation.
Identifying how people learned to meditate, the difficulties they faced, and the internal and external motivators that facilitated their practice helped us understand the journey through meditation and best practices for teaching and encouraging beginners.
Meditation is a practice. Just like learning any new skill, it takes dedicated time and effort supported by proper guidance, structure, and encouragement.
Perhaps the biggest takeaway from our research is that meditation is a constant practice, no matter one's level of experience. Our data pointed us toward several ways to help facilitate that practice:
​​
Start with the core techniques: breathing, posture, and attention. Teaching techniques like breath counting, body scanning, and settling the mind can help ensure a proper foundation before progressively increasing meditation duration and variety.


Teachers provide structure and support. Our participants often attributed their success with having someone to guide and support them through the practice of meditation, and those who didn't have a teacher wish they'd had one.


Weekly classes anchor practice. Regular weekly classes reinforced personal practice. Many found value from those taught at a monastery, a place dedicated to meditation with knowledgable monks, informative talks, and a supportive community.


Address challenges in class. Acknowledging common difficulties like physical discomfort, the wandering monkey mind, and uncertainty provided opportunities to learn how to navigate them and encouragement to stick with the practice.


"Off the cushion" applications. One of our favorite phrases came from a participant who talked about applying meditation concepts and practices "off the cushion" in everyday life. Doing so can strengthen meditation practice and benefits.
Phase II

| Translating and transforming implications into design
All of our data and their implications were integrated into a curriculum
to teach and develop meditation practice over eight lessons.
We took the digital notes from our affinity maps and organized our findings into lesson plans directly from our research. In the end our bounty of data slowly took shape and transformed into the curriculum and virtual components of our system.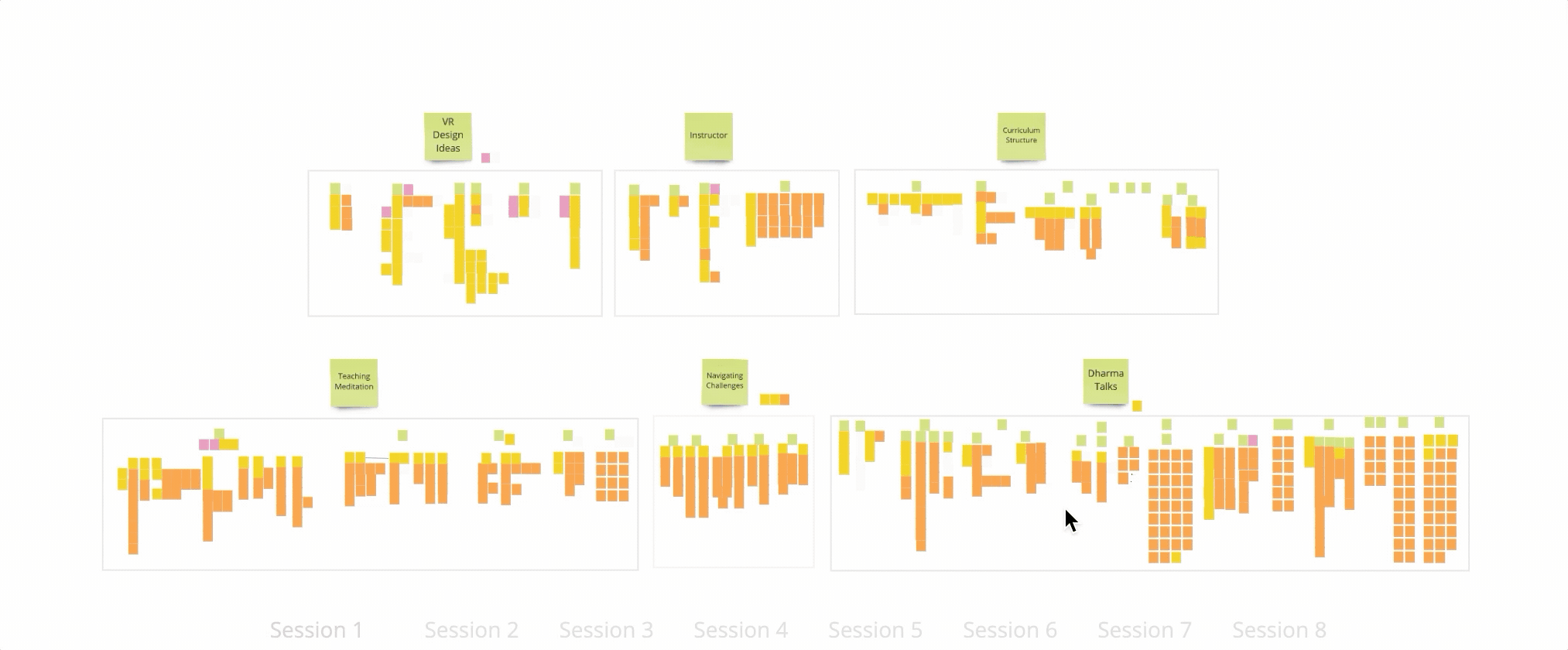 We created our meditation curriculum by building each lesson using content derived from all of our research data.
Based on our research we broke each lesson into up to five parts:
​
Introduction: Each session would begin with a brief introduction reminding users of what they learned last class, their motivations for meditating, and the benefits of regular practice.


Instruction: Prior to the meditation, the teacher would provide instructions for the lesson's meditations. Some lessons would build on previously taught techniques, while others would introduce new techniques for users to try out.


Meditation: The instructor would guide the user through the beginning of the meditation technique before encouraging them to meditate on their own for increasing durations over the course of the curriculum.


Talk: "Dharma talks" are a typical component of classes taught at monasteries that provided value and context to meditators we interviewed. We decided to include short talks at the end to teach about meditation concepts and personal practice.


Dialogue: One benefit of group meditation we heard was reflecting on the meditation experience and challenges together. Every other session we would simulate a group meditation and dialogue between virtual classmates and the instructor.
We also identified opportunities to leverage the immersive and interactive qualities of virtual reality to enhance the experience of learning meditation.
Along with implications for curriculum content, our data also inspired several ways that virtual reality could be used to help users visualize and experience elements of meditation. We made sure to go through the content for each of our lessons and identify any ways that VR could be leveraged to help communicate concepts in an engaging way.
Our research was translated into a multitude of deliberate design decisions that were then illustrated in the virtual environment and curriculum content.
Once we outlined the content and design for each VR meditation lesson,
it was time for us to start implementing and developing.
We wrote a 50 page script for our 8-lesson curriculum and built it with content, techniques, and guidance learned from our research.
Next we recorded the audio for each 25-minute lesson. My partner Matt read the lines for the instructor while I monitored and edited the recordings.
Lastly we brought the meditation lessons to life in virtual reality. Matt put in many hours building and developing everything in Unity. He is a rockstar.
Phase

III

| Evaluate content with VR and meditation experts
Before deploying our final prototype, we conducted 10 heuristic evaluations with experts who could asses the quality of VR and meditation
I compiled a list of common VR heuristics that were most relevant for our project. I also composed some heuristics using meditation principles learned in our research such as attentiveness and presence. By working with both experts in VR and experts in meditation we were able to get feedback on the technical implementation as well as the quality of the meditative experience.
​
For the most part we got a lot of positive feedback and it was rewarding to hear VR experts comment on the high quality construction of the virtual environment and meditation instructors compliment on the script and teaching content for beginners.
​
Apart from some minor cosmetic glitches, here's some of the feedback we received and how we addressed it:
​
Unsure of when to put down controllers: Most participants had to be reminded to put down the controllers in the middle of the session. We decided to explicitly state these instructions in writing on the loading screen after users select their lesson.


Environment a little bright for meditation: Several experts commented that the VR was a little bright which made it distracting. We addressed this by dimming the lighting during the meditation portions of the session.


Ease in visual aids and animations: Some people remarked that the way that visual aids and objects popped into the environment was a little jarring. Using particle effects as a "smoke screen" to hide the entry of items helped ease transitions.


Floating: Many participants felt like they were about a foot off of the ground in VR. We realized that this was primarily due to the height calibration of the headset and developed a protocol to teach users how to center the height appropriately.
​
​
​
Phase IV

| Evaluate the efficacy and design of the system
Using a longitudinal lab-based deployment, we're taking an empirical approach to assess how well our VR curriculum can teach people how to meditate over time.
We're currently running the final study for our study. Here's a breakdown of the details:
We're really excited about this study and can't wait to share the results!